Buy fireworks for Diwali festival
Diwali is also known as Deepavali, Dipavali, Dewali, Deepawali, or the Festival of Lights. It is celebrated in October or November each year. Diwali celebrations can last for about five days.

In 2021, the main festive day of Diwali is Thursday, 4th November (Lakshmi Puja)
South India calls this holiday Deepavali and usually celebrates it one day before North India. But this year North and South India will celebrate the day of Diwali on November 4, 2021.
Lakshmi Puja, is a Hindu religious festival that falls on Amavasya (new moon day) of Krishna Paksha (Dark fortnight) in the Vikram Samvat Hindu calendar month of Ashwin, on the third day of Tihar and is considered as the main festive day of Diwali.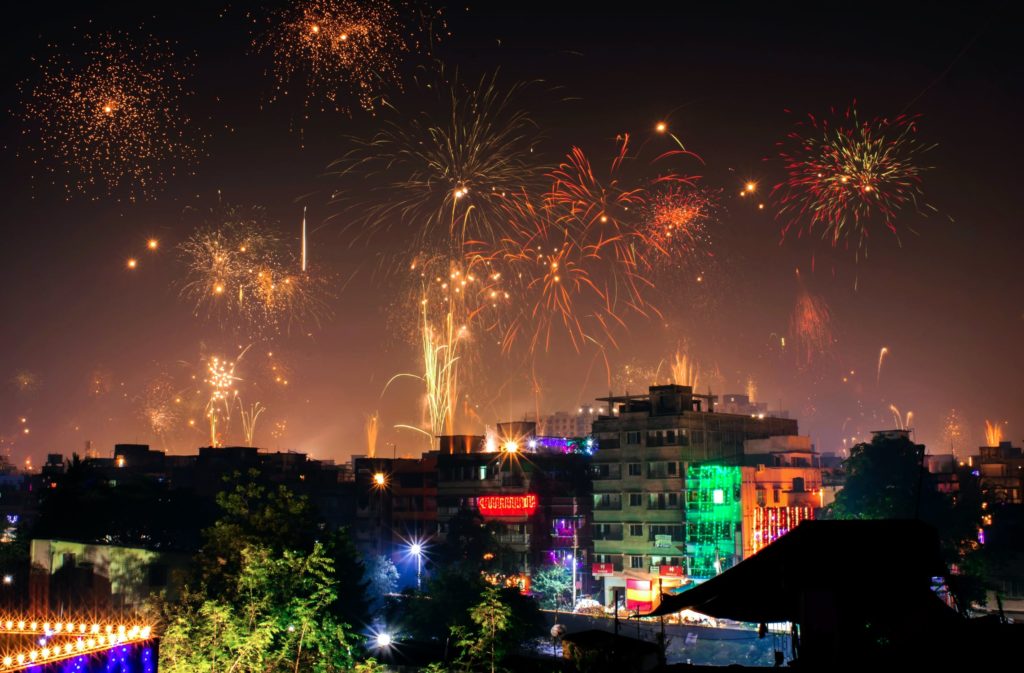 Why is Diwali celebrated with fireworks?
One of the most popular festivals of Hinduism, Diwali symbolises the spiritual "victory of light over darkness, good over evil and knowledge over ignorance." Light is a metaphor for knowledge and consciousness. During the celebration, temples, homes, shops and office buildings are brightly illuminated.
We stock three specific Diwali Firework Bundles, featuring bright colours and all different types of fireworks – to cater for whatever size display you want to host. These can be found here.
Host your own Diwali firework display!
Get into the spirit of the Diwali festival by hosting your own vibrant and colourful Diwali garden firework display. Diwali firework displays are generally less about the noise and more about filling the night sky with bright, vibrant colours. Take a look at our small garden fireworks for a great mixture of fireworks suitable for smaller gardens (with a minimum 8 metre distance to the audience). If you're looking for a slightly bigger display and have the room (min 25 metres to the audience) check out our range of large garden fireworks, you can always add additional single rocket fireworks or cakes/barrages – just filter by noise level and you'll find a whole selection of suitable fireworks. We also have some end of season firework bargains – whilst stocks last!
Our customised, bright and colourful Diwali firework bundles